Kim Gary's cheeeeeese baked rice
HAPPY BIRTHDAY SHAMS!!!!! and JIN!!!! and YUN JIE!!!
wahahahhahaha....everybody's birthday falls on a 7th...hehe, well almost everybody la.
After classes today, Shams, Yuan and Yours truly went to Pyramid for birthday boy's birthday lunch. At KimGary's. Weeee!! After at least 3 years, I get to eat their Cheese Baked Rice again!!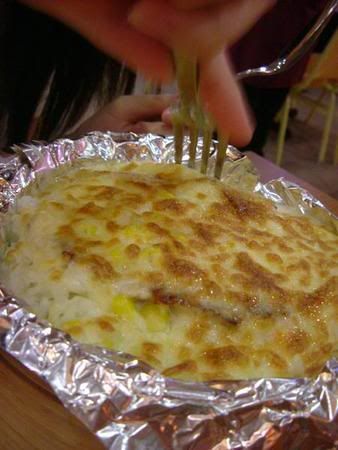 We didn't take any pics while we were there, so I stole this from the net. Cheese Baked Rice!!
All three of us ate the same thing, but just with different meats; I took the fish (bleh. not that nice), Shams the chicken and Yuan took the szechuan style pork. Hehe, I guess I was ranting on how good it was too much. Only then did I find out how much Yuan can eat. He ate lunch BEFORE KimGary's but he could still finish the whole cheese rice thing!! I haven't eaten the whole day oso I could hardly finish mine. Yuan, I bow down to you man. How you stay so skinny one r??
After lunch, we had some time to kill so we went bowling!!!!! heheheheh...It was my first time, so I had a lot of fun, even though my ball went into the drain more than 10 times during that one, yea ONE game.. hehehe. To make me feel even more sucky in bowling right, the Malaysian Bowling team was practicing just a lane away!! I think they didn't want anyone to bounce their ball into their lane accidently coz the lane between our's and their's were empty. Hehe, Stef, lucky you weren't there....if not r, your special bouncing-ball technique sure help them score more strikes one!!!
Yuan wasn't giving face man, he scored two or three strikes!! Bleh!! Oh well, I might have lost but at least I got more than half of Shams marks right?? First time playing you know...ahahha.
We left after that, but on the way out, we bumped into I-forgot-his-name and friends, and also three of my classmates with their friends. Shoutout to Pauline, Abby and Dan!!! Have fun in Aussie ya Dan?? Remember to bring stuff back for me!!! ahahahhahaha...
By the time we remembered to take pics, we were already in the cab nearing our stop. We had only time for one shot but the most important person for the day, Shams, got his face cut off halfway.heheheh. Will post the pic when I get it from Yuan. Had just enough time to take one more pic before Yuan's mom came to pick them up and yay! got it! heheheheh. Again, I'm waiting for Yuan to pass me the pics.